The layout of the cottage
The entry consists of a small staircase that leads to the kitchen with fireplace and antique wood burner.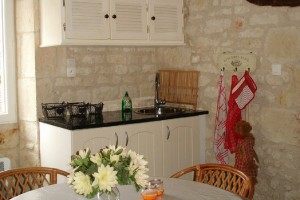 In the space of about 40 m2 stand a comfortable lounge, a diner table and chairs and kitchen.
The kitchen has a refrigerator, stove with oven, coffee maker, kettle, sink and plenty of crockery, cutlery and cooking utensils for four people.
You'll also have a reserve of coffee, tea and spices.
From the window in the kitchen you see the geese and chickens in the backyard around the home of Yvonne and Patrice.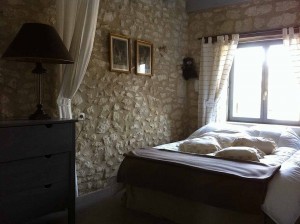 From the windows in the living room and bedrooms overlooking the terrace.
Beside the kitchen is the first sleeping room in which one double of 1.40 to 1.90 meters.
In this comfortable room is also the entrance to the bathroom, with a shower, sink, toilet, washing machine and storage space.
Apart from the first chamber is the second bedroom with two beds of 0.90 to 2 meters, which may be placed apart or side-by-side.
This room has an exit that leads directly to the covered terrace and patio.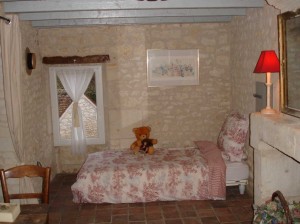 Facilities and Services
Kitchen, cooking, food
Stove
Chair for young children
Microwave
Qven
Services
Wood stove
Satellite TV (French channels)
Sleep, nursing
Children (camping) bed
Washing machine
Activities
Barbeque
pool, on property of the owners.